May 18, 2020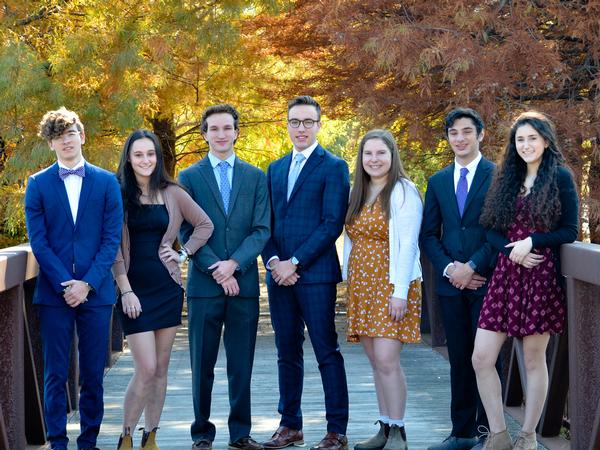 Photo courtesy of Julia Shapiro Photography
Hyman Brand Hebrew Academy Board of Trustees, Administration, Faculty and Staff are proud to announce the Commencement for the Class of 2020 will be held at 7pm on Monday, May 18, 2020, in a private ceremony. The community is invited to watch the ceremony in one of two ways:
live from their cars in the Jewish Community Campus parking lot (attendees must remain in their vehicles) or
via livestream on Facebook Live. Viewers do not need to have a Facebook account to watch the graduation proceedings
This live, in-person outdoor graduation ceremony will take place in the main parking lot at the Jewish Community Campus. Just as with any graduation, seniors will deliver their planned speeches and will receive their HBHA diplomas. New this year, is an outside graduation, set up for social distancing, and shared with a streaming audience. School administrators will present from a podium that will be set up in the grass circle at the main entrance so attendees in their cars can view the proceedings while they listen in on a special FM radio station.
The school is working with HBHA parents and Campus security to ensure this one-hour event remains safe, yet accessible. Immediate family members of the graduates will be given parking spaces closest to the podium and speakers. The addition of technology will ensure the audience can hear from their car. And, perhaps most important, participants will be encouraged to cheer for each graduate by using their car horns after the speeches.
"The ceremony will contain most, but not all, elements of our traditional graduation ceremony to ensure everyone's safety and continued health. We know this has been a challenging time for all of our students, especially our seniors, who are missing all of the usual end-of-year activities. We are pleased we can do something special - and safe - to celebrate the culmination of their time at HBHA," said Todd Clauer, HBHA's Upper School Principal.
Since HBHA moved to a distance learning program in mid-March, students have kept up with their studies online, and remained connected with their teachers and classmates through Zoom lessons and collaborative projects. However, due to the coronavirus pandemic, HBHA Upper School students missed two class trips: the Civil Rights Tour of the South that ninth and tenth graders participate in - in partnership with University Academy students, and the Jewish Heritage Trip to Poland and Israel for juniors and seniors.
"While we cannot make up for the events they have missed throughout the course of the pandemic, we are pleased to be able to offer them a social distance-style graduation experience," said Clauer.
Seniors in the class of 2020 will attend the following post-secondary institutions:
Addison Brand, University of Kansas
Eli Cohavi, University of Denver
Gavi Glickman, Yeshivat Orayta then University of Maryland Honors Program
Mirra Goldenberg, University of Colorado
Ethan Herman, Tulane University
Sara Saidel, Young Judea Year Course then University of Maryland
Ayelet Schuster, Bradley University Honors Program
"On behalf of the entire staff and faculty, we are so proud of our 2020 graduates and wish them only the best in the years to come. Through our school's individualized college prep and guidance process, our seniors have been very thoughtful in selecting the right fit for themselves, in terms of their continuing education," said Adam Tilove, HBHA Head of School.
HBHA Alumni offer advice to the Class of 2020 upon their graduation:
Congrats, everybody! Take the time to be proud of all of your hard work, you deserve it!
Eliana Schuster
Sophomore at Muhlenberg College
Class of 2018
Stay connected to your Jewish identity as you enter this next chapter. This looks different for everyone, but exploring which Jewish traditions and values resonate with you most can be grounding as you gain independence.
Elana Goldenberg
Graduating Senior at Washington University in St. Louis
Class of 2016
In Pirkei Avot 2:4, Hillel says, "do not say 'when I free myself of my concerns, I will study,' for perhaps you will never free yourself." As you venture out into the world, I hope that you follow Hillel's advice and make time to continue your Jewish education in your own way. Mazal tov on graduating from HBHA!
Elana Goldberg
Middle School Judaic Studies Teacher at the Leffell School (Hartsdale, NY)
Class of 2010
Greetings Graduates! Today's world isn't the same as it yesteryear's, so take in all the advice you can from experienced professionals, digest it, and from there make your own well-informed decisions. You earned a great education at HBHA, now put it to good use.
Jeremy Krashin
Saint Luke's, Strategic Planning
HBHA class of 2000