Jewish Heritage Trip 2022
November 07, 2022
The past weeks have been distressing for the Jewish Community, as mega-stars pressed the boundaries of antisemitism. To be Jewish historically, and in America today, is to be part of an all-too-often misunderstood minority. Perhaps because most of us are white– or because many are powerful members of business, entertainment and politics– we are perceived as a dangerous 'other,' but safe to condemn, criticize and scapegoat without seeming to be 'racist.'
First, from a safety perspective, I want you to know that the HBHA site is more secure than ever. Last year's addition of the front door "man trap" and the cameras and buzzers at both back entrances to the JCC added another layer of protection. I regularly meet with Chuck Green, the director of security for the J Campus– and I feel we are under a very professional eye. Chuck has strong relationships with the Overland Park Police, the FBI and the National Association of JCCs. As a parent of an HBHA student, with another at the CDC, I feel safe and confident in the security of our campus.
What can we do?
I believe that we, and all Jewish day schools, are already part of the solution, and I wish there were more of us. What we need are proud, well-educated graduates who have strong identities and are ready to engage the world. We need more Jews who can talk about what Judaism is and isn't, and who can counter the flow of ignorance and misinformation.
I didn't go to Jewish day school. I had a strong Jewish identity, but I really didn't know enough about it. I recall one year at Rosh Hashanah services, the rabbi told the story of the boy who showed up at Yom Kippur services and played the flute, because it was the only way he knew how to pray. When he was scolded by the shammash (or synagogue helper- the shammash always gets thrown under the bus in these stories), the rabbi scolded the shammash, telling him, "his prayer from the heart opens the gates of heavens more than your prayer."
The moral of the story is that you don't need to know the prayers to pray from the heart. Be present and keep an open heart. Don't focus on what you don't know. Years later, the rabbi told the same story. But when I heard it this time I thought, "This kid again? It's three years later and he still hasn't learned how to pray? He's still coming to synagogue once a year disrupting the community with his flute on the holiest day of the year, while pleading ignorance?"
I resolved then to learn more about Judaism and my quest has never stopped.
On another note, a friend of mine recently posted on Facebook- "I am ready to overcome my shame of a Jewish birth. Can anyone recommend a Kabbalah class?" His comment got over 200 replies. When asked about the "shame," he said, "Perhaps because I never had a bar mitzvah, and I didn't understand my own identity."
It is hard to carry Jewish identity without really understanding what it means.
When the creators of the United States imagined our country, their dream was that there would be many strong identities living together, sharing common values, the same space and culture. Like a hearty stew – here a potato, there meat -- but all working in harmony. I do not believe their dream was that we would all be the same, or have diluted identities in order to get along.
But what is a person to do, who is born Jewish but doesn't know about the richness of our history and culture, our language and holidays, our laws and traditions? When facing antisemitism, a person without knowledge might be angry, or ashamed-- but how might he/she internally or externally fight the waves of ignorance and misunderstanding that run through our world?
As we live our lives in our beautiful multicultural America, we need more pride and less shame. We need more learning and less 'winging it.' We need more strong identity and less blending in to get along. This is the gift of a strong Jewish education. To know and love who you are without fear, shame or confusion. This is the American dream and the hope of our people.
October 29, 2021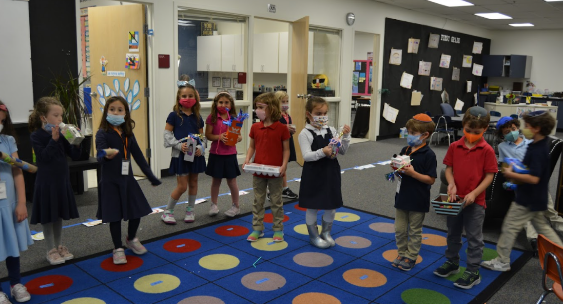 I am excited to share with you information about one of our newest endeavors at HBHA: Project Based Learning. Even better, it's coming straight from the source ... one of our teachers!

Shabbat Shalom,
Adam Tilove
___________________________________
Project Based Learning

This fall HBHA teachers spent two days learning about Project Based Learning (PBL). PBL teaches students to learn through investigation and respond to a question. During training I thought to myself "this sounds great ... but how in the world will I do this with first graders?" Fast forward two months and the first graders have finished one PBL experience and are in the midst of two more!
Our first PBL experience was a science unit on sound. Highlights included a trip to the science lab and creating musical instruments out of recycled materials like egg cartons, boxes and beads. The unit culminated with a musical performance at Taste of Shabbat.
This week, first graders began learning about light. We opened with a story about a boy who went spelunking and thought he would be able to see without a headlamp. Spoiler alert, he was wrong! The next day, we decoupaged clear visors with three different types of paper (see photo at right). Options included construction paper, tissue paper and cellophane. Once the visors were dry, students tried them on. Within seconds I heard a chorus of "I can't see!" "Everything looks pink!" "The paper is too thick to see through!" Mission accomplished!
Next week we will discuss translucent, transparent and opaque materials.
Yesterday the weather was rainy and cold, which meant indoor recess ALL DAY. At morning recess, the first graders pulled out a large box of building blocks. By the end of recess, they had built a city! They were so excited about all the things they had built. Landmarks included a stadium, a movie theater, a parking garage and even street lights to name a few.
I did not have the heart to ask them to put the blocks away, so instead we had an impromptu civics lesson. We talked about building a new community and all the things that our new community would need. After the next recess our city had a hospital, a farm, a restaurant, homes and many more important things. There were even a few natural disasters. At the end of the day, we put the blocks away and next week we will continue learning about building a new community.
I went into PBL training questioning how I would use this teaching method in first grade. Today, I see things through a different set of glasses. Before PBL training, I would have demonstrated how light travels through various materials. With PBL, students learned through investigation how different materials allow light to show through. Next week I will teach them the vocabulary to name their experience. Through my own investigation I was able to answer my original question.

Mission accomplished!
Shira Zigler
First Grade General Studies & Hebrew Resource Teacher