Gratitude Is the Attitude
November 20, 2020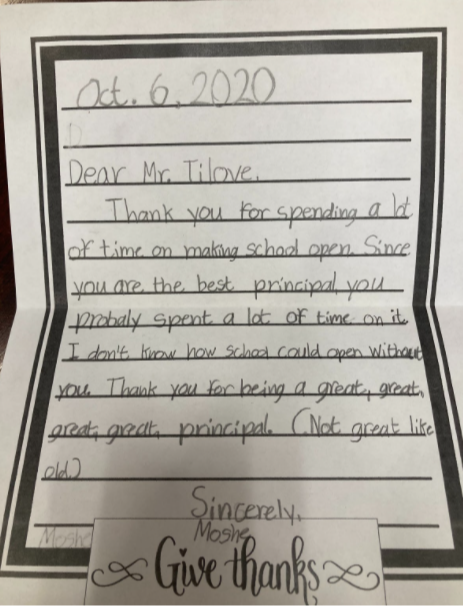 Dear HBHA Family,
Let's face it. 2020 has been a stinker. But this month, many of our classes have been focusing on Gratitude, or hoda'ah. I received the most beautiful letters of gratitude from two members of our 3rd grade class, as part of their month-long gratitude project. The goal of the project is to spread a feeling of gratitude not just among their peers, but around the entire school. And it's working: The letters inspired me to pay it forward, and focus on the gratitude I feel right now.
I am grateful that I and everyone in my immediate family is currently healthy.
I am grateful that I have a home, a car, food and everything I need to live and thrive.
I am grateful that I have an education and that I can continue to study and learn.
I am grateful that I have a job that is interesting, challenging and feels important.
I am grateful for Judaism, which has given my life greater meaning and direction, and has made me a better person than I naturally am.
I am grateful to be part of a community of people I care about, and who care about me - both here and around the world.
I am grateful for America, which accepted my family with open arms generations ago, and has enabled us to live peaceful, happy lives in a diverse community.
I am grateful for Israel, which gives me a feelings of safety and stability, even while I live half a world away.
I am grateful for the people I work with, from the faculty and staff, to the board, to the reopening task force, to the PTO, to the leaders of the other Jewish organizations in Kansas City, who are hard-working, innovative, passionate and tenacious.
I am grateful for the internet which connects us and allows funny people all over the world to make me laugh.
I am grateful for the parents who have supported me through this difficult time, and for the parents who challenge me to think differently and do better.
I am grateful for pets that are cute and warm and silly.
I am grateful for my parents who continue to love and support me, even though I was a very difficult child to raise.
I am grateful for my children who keep me playful and silly, and who have helped me grow in so many ways.
I am grateful for my wife who brings the joy to our house, and is eternally patient and forgiving.
Several years ago, I learned an important lesson from a third grade play: "You don't express gratitude because you feel happy, you feel happy because you feel gratitude!" Even in the midst of a global pandemic, we have so much to be thankful for. I hope this Thanksgiving you are all able to connect to those feelings of gratitude and to feel the joy and happiness you deserve.

Shabbat Shalom,

Adam Tilove
HBHA Head of School