Head of School Blog
January 27, 2023
During the Civic Awards Brunch this past weekend, I was moved to see incredible seniors that I was fortunate to teach in both first and fourth grades. I was reminded about the role we play in creating leaders of the future. At HBHA, we are fortunate to watch our students flourish, both in our own classrooms and for the remainder of their years in school. I can't describe the feeling of seeing the little boy who would only write if I sat next to him become a self-assured leader, or the little girl you could barely hear when she read aloud stand up and deliver her graduation speech loud and proud.

Unless you're a teacher, it's difficult to understand the feeling when a new class comes in, those students become 'your kids.' They stay your kids forever. Whether they smile and spread joy all day or lash out because they're overwhelmed, we commit ourselves wholly to every child in our care. I've watched students who struggled with their fine motor skills pull into the parking lot after passing their driver's exams and the painfully shy little girl performing fearlessly on stage. I know that I play a small role in those accomplishments, giving children what they need during the time they're in my care.

At most other schools, when students walk out for the last time in May, teachers' future interactions with them are limited. At HBHA, we continue to interact with them in the hallways, at programs, on the basketball court, in our school families, at synagogue, and we can chat with their parents in the Rams Cafe. As an educator, being able to see the fruits of our labor is gold.

My path to HBHA, like that of many teachers here, was unique. I attended Northwestern University, most of the time thinking I would become a lawyer. During my senior year, as I dreamed of changing the world, I began to doubt whether law school was for me. Upon graduation, I worked at Chicago's Jewish United Fund in their Young Leadership Division. I planned many adult education programs and thought, why should it take until adulthood for people to be excited to learn? I decided to go to school for elementary education and have never regretted it.

Shortly after graduating with my Masters in Teaching, our family moved to Kansas City. We never intended on sending our son to Jewish day school, but we sent him to HBHA for kindergarten with the intention of moving to public school later. But he thrived here, and we were hooked for life. We loved the attention our son received and the community that warmly embraced us.
When a teaching position opened the following year, I applied. I could observe that HBHA was a place that appreciated its teachers' intellect and allowed its faculty to do far more than read from a scripted curriculum. I have always loved planning lessons and units, and I wanted to be able to use my creativity and passion for Judaism in the classroom. Soon after, our daughter began at HBHA. We loved being an HBHA family.

Sixteen years later, I'm still here. During my three-year absence in Holland, I worked with a wonderful staff, but it was not the family we have at HBHA. I am incredibly grateful to work with dedicated and progressive teachers and administrators, who adapt to the curriculum, explore new technology, and embrace best practices. We are constantly turning out children who are the best versions of themselves, and the methods we use change with each class of children and what is happening in the world around us.

My own children are living their best lives in college and the adult world, and a large part of that is due to their upbringing at HBHA.

Teaching is an incredible opportunity and responsibility. I get to teach children what it means to fight for justice when they learn about the civil rights movement and the Holocaust. I have the privilege of helping them through social interactions and engaging them in learning what it means to be a good and kind friend. I get the thrill of seeing lightbulbs go off in their heads every single day. I'm always proud to have played a small part in helping these little humans grow into amazing adults. I've found my way to change the world, and it's the best job in the world.

October 28, 2021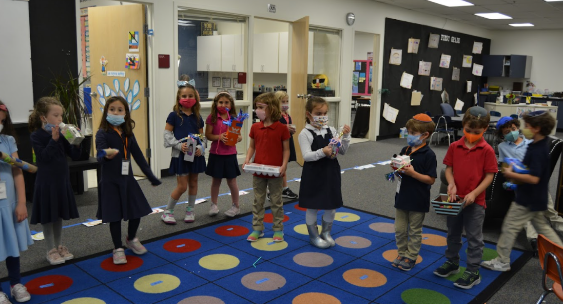 I am excited to share with you information about one of our newest endeavors at HBHA: Project Based Learning. Even better, it's coming straight from the source ... one of our teachers!

Shabbat Shalom,
Adam Tilove
___________________________________
Project Based Learning

This fall HBHA teachers spent two days learning about Project Based Learning (PBL). PBL teaches students to learn through investigation and respond to a question. During training I thought to myself "this sounds great ... but how in the world will I do this with first graders?" Fast forward two months and the first graders have finished one PBL experience and are in the midst of two more!
Our first PBL experience was a science unit on sound. Highlights included a trip to the science lab and creating musical instruments out of recycled materials like egg cartons, boxes and beads. The unit culminated with a musical performance at Taste of Shabbat.
This week, first graders began learning about light. We opened with a story about a boy who went spelunking and thought he would be able to see without a headlamp. Spoiler alert, he was wrong! The next day, we decoupaged clear visors with three different types of paper (see photo at right). Options included construction paper, tissue paper and cellophane. Once the visors were dry, students tried them on. Within seconds I heard a chorus of "I can't see!" "Everything looks pink!" "The paper is too thick to see through!" Mission accomplished!
Next week we will discuss translucent, transparent and opaque materials.
Yesterday the weather was rainy and cold, which meant indoor recess ALL DAY. At morning recess, the first graders pulled out a large box of building blocks. By the end of recess, they had built a city! They were so excited about all the things they had built. Landmarks included a stadium, a movie theater, a parking garage and even street lights to name a few.
I did not have the heart to ask them to put the blocks away, so instead we had an impromptu civics lesson. We talked about building a new community and all the things that our new community would need. After the next recess our city had a hospital, a farm, a restaurant, homes and many more important things. There were even a few natural disasters. At the end of the day, we put the blocks away and next week we will continue learning about building a new community.
I went into PBL training questioning how I would use this teaching method in first grade. Today, I see things through a different set of glasses. Before PBL training, I would have demonstrated how light travels through various materials. With PBL, students learned through investigation how different materials allow light to show through. Next week I will teach them the vocabulary to name their experience. Through my own investigation I was able to answer my original question.

Mission accomplished!
Shira Zigler
First Grade General Studies & Hebrew Resource Teacher